Ma Xiwu (1898-1962), born in Bao'an (today's Zhidan), Shaanxi, participated in the revolution in 1930 and became a CPC member in 1935. He was Chairman of the Shaanxi-Gansu Democratic Government of Workers and Farmers. In 1946, he was appointed as President of Shaan– Gan–Ning Border Region High People's Court. After the foundation of New China, he served as President of Northwest Branch of Supreme People's Court and Vice Director of the Political and Legal Affairs Committee of Northwest Commission of Military and Political Affairs, and then served as Vice President of Supreme People's Court in 1954. During Anti-Japanese War, he was engaged in administrative and judicial works, making frequent inspection tours around the country and devoting himself to investigation and case settlement by relying on the public and based on facts. His trial method is called "Ma Xiwu's Trial Method". The traditional painting reproduces the scene that Mr. Ma Xiwu was holding an assize for the convenience of litigation at the anti-Japanese base in rural area of northern Shaanxi.
The relief work "Be Strict and Upright in Enforcing Laws" is displayed in the hall of our case filling reception building.
The relief work displays three levels of people's court under the background of new Shanghai and reflects the juridical spirits of the new century and era. In the center of the relief work stand Shanghai High People's Court and Shanghai No. 2 Intermediate People's Court. On the left side from the bottom to the top stand district people's courts of Minhang, Changning, Songjiang, Pudong, Jinshan, Nanhui, Fengxian, Luwan and Xuhui, while on the right side from the top to the bottom stand district and county people's courts of Hongkou, Putuo, Baoshan, Yangpu, Jiading, Huangpu, Zhabei, Qingpu, Jing'an and Chongming. The solemn and magnificent image of court buildings combined in "mountain" shape implies that the people's courts are strict in enforcing laws in their justice practice. The gently-flowing Huangpu River implies that the judges in Shanghai improve their cultivation and moral sentiments with the spirit of "water which benefits all things without striving for fame" and also declares that the people's courts have the belief and faith to be just and upright to promote the building of a harmonious society.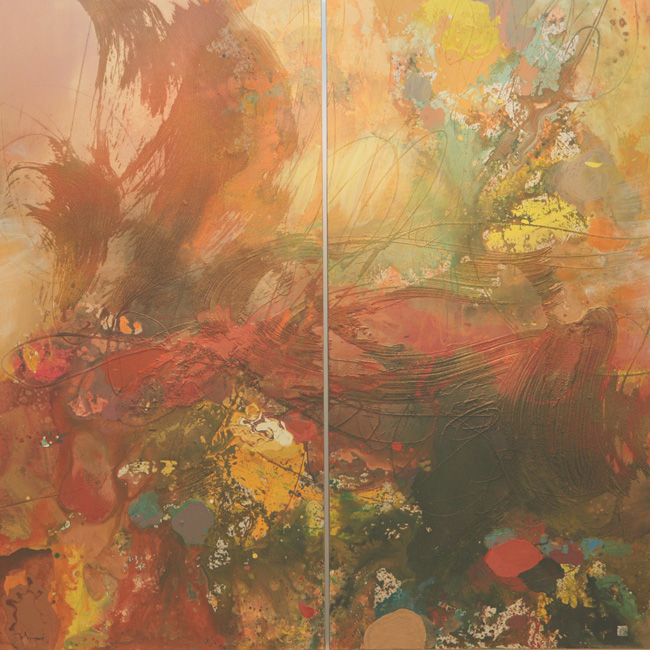 The oil painting titled Harmony is displayed in our VIP room.
The Chinese American Painter Mr. Zhao Weiliang created this work in September 2006 for our court. With the abstraction technique and brilliant brushwork, the work reflects the artistic conception "All Compatible Things in Vertical and Horizontal Lines to Reflect Brilliance and Harmony in Diversity".